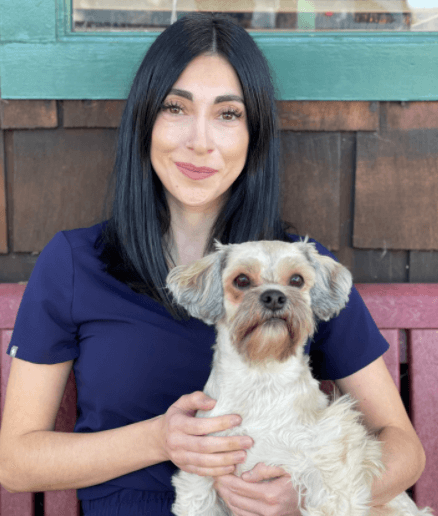 Dr. Christina Mirzaian was born and raised in Hacienda Heights, a small town not too far away from La Verne. From a very young age, she always had an appreciation for animals. She constantly fought with her mom to allow her to have different pets at all times, ranging from dogs, to cats, rabbits, birds, and fish. It wasn't until one of her chihuahuas went into heart failure that she witnessed firsthand the value of quality veterinary care and compassion for pet owners. That experience, along with years of working in a private practice as a nurse, ultimately led her to choose a career in veterinary medicine.
She obtained her Bachelor of Science degree in Biological Sciences at California State University of Fullerton. From there, she attended Ross University School of Veterinary Medicine and completed her clinical year at Cornell University. Since then, she's worked both in corporate and private practices. She particularly enjoys dermatology, long-term management and care of chronic disease, and urgent care.
Recently married, she enjoys spending time with her husband and their dog Zoey Marie. In her spare time, she loves to travel, try new foods, watch movies, attend concerts/shows, and interior design.